I'm re-reviewing Miracle Noodles, a product that has come a long way in the last 10 years since I first reviewed them. Not only am I happy to share their many health benefits, a coupon code and my favorite recipes to boot!
WHAT'S SO MIRACULOUS ABOUT miracle noodles?
Back at their start, they had one option- a simple noodle option made from the konjac plant. Today however, they have quite a few to choose from, and are friendly for just about every type of diet:
Paleo
gluten-free
vegan
kosher
Low carb
Keto
Organic
FODMAP Friendly
Noodle options:
Angel hair
Hearts of palm ready-to-eat pasta
Fettuccine
Spaghetti
Ziti
While they don't taste or have the texture of traditional pasta, they are pretty close. With the right recipe and cooking techniques, they make an excellent substitute for your favorite noodle meals.
Just a tip though: they can take some getting used to, as with any "substitution." It usually takes me a little time to familiarize my taste buds with something new, but if it's healthy and means I have more options than lettuce and chicken breast- it's worth it!
It's also not long before I find myself craving that food- and craving healthy foods… that's a priceless benefit.
Where Do Miracle Noodles Come From?
They come from the Konjac plant, which contains a water soluble fiber known as Glucomannan. This polysaccharide is considered an effective dietary fiber with a number of healthy benefits, making this a welcome imported plant from eastern Asia (Japan, China and Indonesia.)
The Konjac plant looks like this: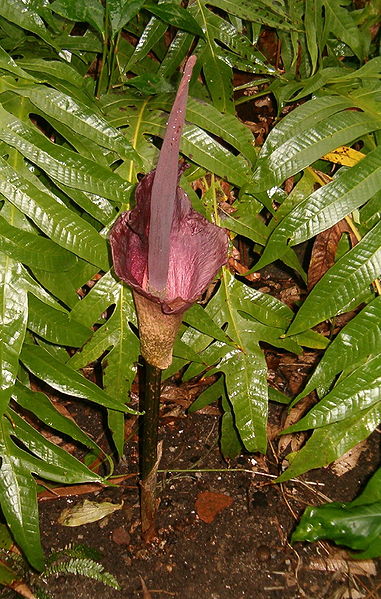 4 Great Benefits of Miracle (Yum) Noodles
It's no secret that a primary issue with the Western diet, is the high calorie intake (our portions are sometimes 5 x the size of other countries) and the lack of fiber in our diet. In other words, we don't get quite enough fruit and vegetables on the daily.
1. Lots of Fiber Benefits!
This is where these noodles come in handy. Not only are they full of healthy fiber for digestion, but it also leaves the body feeling full for extended periods of time. This slows the digestion process, allowing the body time to thoroughly process everything eaten.
2. Helps with Insulin Resistance
This also delays the release of glucose (sugar) into the bloodstream. This can be very beneficial to those who struggle with their weight and are known to be insulin resistant.
---
Note: Are miracle noodles acceptable on the Hcg Diet food list? Yes!
---
3. Improved Digestion and Gut Health
The slower digestion also enables your body to absorb more nutrients from the foods you consume – vitamins, minerals, and protein. The results are many, but improved gut health is also a result of this efficient digestion process.
In combination with an active lifestyle the noodles can help with lasting weight loss success.
---
---
Need a coupon code for Miracle Noodles?

10% off: AFF10MN

for HDI Readers xoxo
4. Lower Cholesterol
These nifty noodles can also help lower cholesterol. Studies show the fiber contained in Miracle Noodles binds bile acids secreted from the gall bladder. These bile acids contain cholesterol are 'captured' and excreted with the fiber. According to research the improvement is significant.
5. Constipation Relief
Glucomannan present in the noodles has also been found to relieve constipation and promote gut health.
---
Allergies and Special Diets
Miracle noodles don't contain soy, gluten or dairy and they are a good alternative for people with allergies and intolerances. They also have zero net carbs (digestable) which makes them really great for low carb and keto dieters as well as Hcg Dieters.
NO Fat
NO Sugar or Starch
NO Carbs
NO Dairy
NO Soy
NO Protein
NO Calories
NO Wheat
NO Gluten
How to Cook and Eat Miracle Noodles + recipes 🙂
There are multiple varieties – noodles, rice and pasta – for your enjoyment and flexibility when it comes to different dishes.
Cooking Directions
The preparation is quick and easy:
Cut the bag open with scissors and use cold water to rinse the noodles in a strainer.
Boil for 2-3 minutes and no longer.
Drain. After draining, roast the noodles in a frying pan for a minute, until they sizzle.
When they sizzle it means they're ready!
Add a low fat, low sugar sauce and veggies and you have a nice healthy stir fry.
Use them in soups, replace pasta or rice dishes and many more as they are very flexible and will take on the flavor of the dish or recipes you come up with.
Recipes to Try
#1. Citrus Rosemary Salmon with Market Fresh Veggies and Avocado Pesto
Ingredients
2 Salmon Fillets skin on
1 small orange
2 sprigs fresh rosemary
coconut oil
salt and pepper to taste
1 medium zucchini
1 bunch of asparagus
12 cherry tomatoes
salt and pepper to taste
drizzle of olive oil
1 avocado pitted
Juice of 1 large lemon
1 bunch of basil
2 garlic cloves
1/4 cup of olive oil
Salt and pepper to taste
1 bag of Miracle Noodle Fettuccine
Cooking this recipe:
Marinate the salmon for at least 30 minutes (or overnight) with the orange juice and chopped rosemary, season to taste with salt and pepper, then heat up a cast iron to a medium high temperature, add coconut oil and sear salmon skin side first.
Julianne zucchini, cut asparagus in half mix. Coat with a drizzle of olive oil and season to taste with salt and pepper, roast in the oven at 350 degrees for about 10 minutes or until tender. Cut cherry tomatoes in half and set aside.
In a food processor or blender add garlic, lemon juice, olive oil, basil and salt and pepper, process until smooth and then add avocado, add water if needed to achieve pesto consistency.
Prepare Fettuccine according to package directions.
Mix roasted veggies, cherry tomatoes with fettuccine and the pesto, serve with salmon.
---
testimonials & Effects
Not only are these noodles yummy, easy and affordable, they have really helped some of our readers to change their lives. They have helped countless people to….
Lose weight successfully (Some have lost in excess of 100 lbs!)
lower cholesterol
control blood sugar levels and manage insulin resistance
eliminate cravings (especially for unhealthy foods)
Avoid gluten-free pasta dishes without side effects
Reading those testimonies it turns out it's neither a fad not an aid – it is a very powerful tool when it comes to improving overall health.
Chefs all over the world recommend these to dieters as a great pasta or noodle substitute. People have experienced significant health improvements and some were even able to stop taking medication for type 2 diabetes.
The best thing about the noodles is that they are completely natural and safe. There are no side effects to be expected.
Miracle Noodles work on the hCG diet plan (learn about this here) because provide you the benefits of eating a fiber food without adding calories to your hCG diet.
Because Miracle Noodles come in a wide variety of pasta style flavors, Angel Hair, Fettuccine, Orzo Pasta, Linguine, Mini Pearls and several other varieties, you can have a lot of fun adding them to your allowed hCG diet foods and coming up with recipes for Miracle Noodles.
Conclusion
The Miracle Shiratake Noodles are definitely worth a try. It's a great way to still enjoy preferred pasta dishes (I know I'm a huge fan of pad thai and this is a welcome substitute.)
Additionally, there are many ways you can cook and eat them – noodles, rice, pasta shape and you can add anything you like to them. If you still lack inspiration, there are plenty of books and online recipes on how to make quick delicious meals with Miracle Noodles.