Nu Image Medical Coupon Codes for 2021
Nu Image Medical coupon codes, sales and exclusive offers are available on this page, especially for readers of Hcgdietinfo.com. In addition to using these codes, there is an additional discount code automatically applied through our link!
By enrolling through this page, you can save over 60% on their Hcg kits and weight loss programs. This includes an instant discount up to $150 off using our exclusive discount. You will also have free B12 to mix with your hCG injections (automatically shipped with your order.) These discounts apply to their high quality prescription hCG injection kits, drops and pellets.
Nu Image Medical Coupon Codes for 2021
Exclusive coupon code #1: HDIVIP
Exclusive promo code #2: WELCOMETONU
[maxbutton id="15″]
Who is Nu Image Medical?
NuImage is an FDA approved telemedicine company located in Florida, USA. They have a 15 year track record as a leading telehealth company, offering hormone therapy for legitimate medical weight loss and anti-aging programs. For over a decade, NI has earned a reputation for quality and outstanding customer service, and is considered a leading authority in medical weight loss.
What is included in their Hcg Weight Loss Program?
Nu offers a complete and legitimate, doctor-supervised medical weight loss program. Included: Doctor consults, valid prescription, prescription Hcg hormone, all mixing supplies and instructions (videos and live support available), needles and even alcohol swabs. They also include expert Hcg diet coaching access throughout your weight loss journey.
How does the ordering process work?:
Simply visit the page listed above and select a 26 day program, or a 46 day program (long round). Select any add-ons you would like, based on your personal needs, and add those to your cart followed by adding your promo code at the bottom of the page. You will then be prompted to complete a brief (and mobile-friendly) medical questionnaire. Once submitted, a medical doctor will review and reach out to you for a 1 on 1 consult. This is the same experience as going into a local doctor's office (although much more convenient.) The doctor will go over your submitted medical profile with you and answer any questions you may have regarding the Hcg weight loss protocol. Once everything has been reviewed and your questions have been addressed, the physician will approve your prescription and send this directly to their licensed pharmacy located in Florida. The pharmacy will ship your order directly to you. Fast, overnight shipping is available and all order processing is instant. Note: anyone found to not be suitable for medical weight loss, will not be charged.
Things to keep in mind:
Nu starts their Hcg protocol with the highest dosage on the market of 200 units of prescription hCG, and then offers assistance for adjusting afterward if the patient expresses feelings of hunger during phase 2 of the protocol. While some people prefer a dosage this high, most find this can indeed make them feel unnecessary hunger. It is quite simple to adjust dosage for a lower amount and, in fact, it is quite common to require a dosage adjustment at some point during Phase 2 (weight loss phase.) If you have experienced this on the protocol in the past, or are concerned about this for your first round, feel free to discuss this with the physician during your consult and they can start you at a lower dosage. Again, it is not uncommon to require a dosage adjustment at some point during the weight loss phase of the protocol. It is a simple adjustment that they are happy to assist you with at any time. If you would prefer a company that offers custom dosage from the start, you may want to consider learning about Diet Doc's hCG diet program.
How to use these Coupon Codes, Step by Step, with Pictures
[maxbutton id="15″]
I receive a number of emails and messages in the Hcg Diet Forums here, regarding how to use the coupon codes correctly. Here is a step by step guide, including photos to help with the ordering process and to ensure you get the appropriate discount offer.
Step 1. Click on the link above, and you will come to the discount order page. Select a 26 day round, or a 46 day "long round" (save over 60% with this option.) Note: the promo code will not apply without this step.
Step 2. Select your preference of prescription hCG: injections, oral pellets, or oral drops. All of these options are prescription strength but do not require a prior prescription. A physician will contact you and approve your prescription during your 1 on 1 consult once your order is submitted.
Step 3. Select all add-ons that will help with your personal weight loss needs. All supplements offered are Hcg Diet friendly and are medical grade in strength and quality. These are not to be confused with lighter-strength and lesser quality of over the counter supplements.
Step 4. Enter your coupon code at the bottom of the order page. Our readers receive a significant discount through our link already, however the code, HDIVIP offers an additional discount of $50, plus Free B12 (shipped with your order.) Exclusive to Hcg Diet Info only.
Tip: If you have any issues using your coupon code, you have several options. First, you can use the little chat button on the bottom left of the order page. While their hours are listed as normal business day hours, I have messaged them before and after these hours and still received a response (pleasant surprise!) If, by chance, they are unavailable, they will still send a timely email response.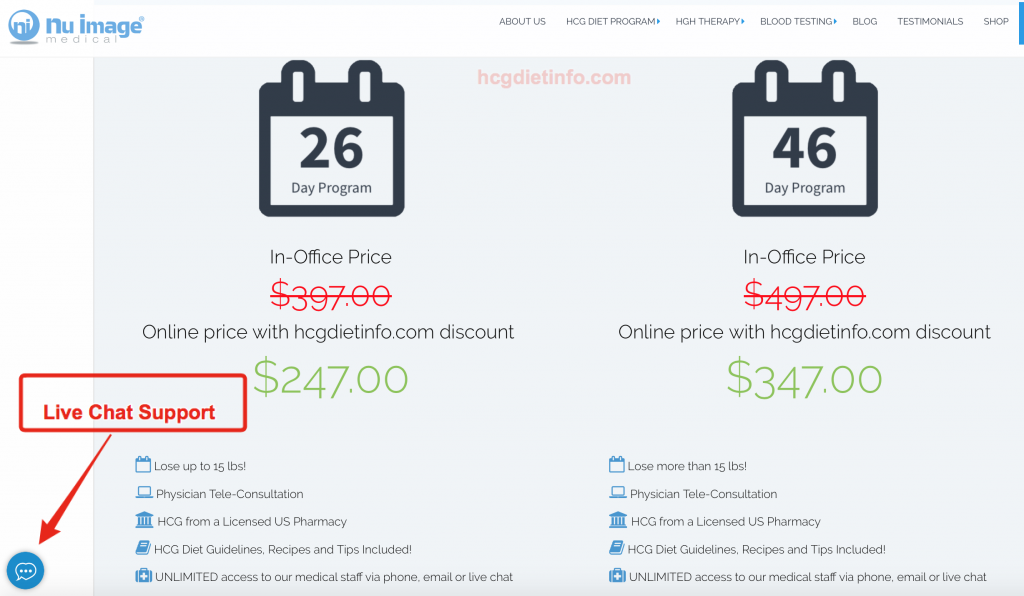 A second option is to call them. They will honor the coupon code if you reference code, "HDIVIP" over the phone, or simply let them know you were referred by Hcgdietinfo.com. A final option is to message HDI directly- hdihealth ((@)) gmail. We will be happy to contact them on your behalf and help with your order, or any questions you may have beforehand.
[maxbutton id="15″]
Frequently Asked Questions
Do the coupon codes apply to all products?
These codes apply to all HCG products; injections, drops and pellets. They do not apply to supplements such as lipotropic injections, or their Hcg Diet friendly shakes.
Does NI offer hCG pellets?
Yes, they offer pellets, also referred to as troches, drops and injections. All are pharmaceutical-grade Hcg hormone.
What are the current coupon codes and promo codes?
HDIVIP and WELCOMETONU are both current codes with no expiration date.
Should I include lipotropics and B12?
These supplemental add-ons have been shown to increase the weight loss and experience of the medical Hcg weight loss program. They are used to enhance energy and increase metabolism. In addition, part of the discount and current promotion with HDI, B12 is offered FREE with your purchase. This is shipped automatically with your order- there is no need to add it. Once your kit arrives, it will arrive with instructions on how to mix this with your Hcg injections so you will only need one injection.
Is a prescription required to use with these discount codes?
No, a prior prescription is not required because it is included with your purchase. NI is a licensed, FDA-approved telemedicine company with a team of doctors that oversee and approve hCG prescriptions to be used with their program. This is 100% legal and legitimate and considered the fastest growing practice of medicine in the USA.
What kind of medical background information is requested to use the code?
The enrollment process is quite simple and is exactly the same as one would experience in a local doctor's office: When you enter a doctor's office, you are greeted by a receptionist and handed a medical form on a clipboard- this is the same form, although quicker, that is completed online. Basic information requested, includes:
Name
Date of birth
Preferred contact information
Basic physical details: height, weight, etc.
Primary care physician's information if you have one (John Doe if you don't have one.)
Basic Medical examination; any allergies, medical conditions, etc.
Alcohol or drug usage information
Family medical history
This is all carefully reviewed by the NI physician, and gone over during your personal consult. You are encouraged to discuss any special circumstances with the doctor, who will be accessible throughout your weight loss treatment. You will have the option to consult with them via phone, video chat or email at any time.
Instructions and Guidelines
It is perfectly normal to wonder if you will have the necessary instructions and guidance after enrolling in their weight loss program. Rest assured, your hCG will arrive with detailed instructions in a handy guidebook. They also provide access to your prescribing physician and their team of medical staff and expert coaches. This is simple and convenient through live chat on their website (see the instructional images above that will show you what the chat button looks like in case you can't find it.) There is also the option to email their coaches, or call them for step by step guidance.
Nu Image Review by Jenn
I have personally ordered from Nu multiple times and have come to appreciate their ease and affordability. Here are the basic pros: They offer a top notch, doctor supervised medial weight loss program that includes a modern take of the Hcg diet protocol; however they will support the original protocol if requested. Their coaches are well educated and trained and they genuinely care about their clients and their success. The discounted Hcg kits they sell, include far more than just hCG… they provide high quality, high potency prescription hCG with EVERYTHING needed to successfully reach your goals. They also pride themselves in offering stellar customer service for long term achievement of your goals.
Read my entire Nu Image review, and see photos of my most recent order.
To compare Hcg purchasing options, read all about buying prescription Hcg injections, drops and pellets here.
Testimonials
I've ordered from 2 telemedicine companies to get my Hcg injections. This was by far the best. They were fast, affordable, and having access to their support team by chat, was an incredible convenience. I'm definitely going through them again for my last round on the protocol. Thank you Nu! – Donna
I have lost 20 pounds in 9 days with your hCG injections and I am beyond ecstatic!!!… Thank you so much NI, for all your help in making this diet easier. I'm looking forward to bikini season for the first time since high school! – Tamsin
I wanted to express my gratitude and thank you for the prompt service and professional support. So many companies have forgotten what customer support truly means, but you have mastered it. I also appreciate that you offer an affordable weight loss program compared to local Hcg clinics. – Rebecca
I meant to thank you for taking the time to go over the Hcg Diet with me yesterday. I have decided to start the protocol based on our conversation and all the support I have received from your coaches already. I have completed the medical evaluation online and it was quite simple. I'm so excited; I've heard so much about the great results people have with the Hcg Diet. – Stacy
I wanted to say thank you and tell you that I'm happy with your Hcg shots and the support of your medical staff. This has made all the difference in the world. I started on March 30th and in one week, I have lost 17 lbs with your product and the original protocol. I cannot thank all of you enough for giving us the opportunity to buy awesome grade HCG safely from a U.S. company. I'm looking forward to purchasing maintenance B12 and Lipotropic shots to keep going. Keep up the great work!!! – Luanne
3 years ago, I came across a promotion for nuimage and decided to try it. I was able to lose over 45 pounds with the simians protocol (no modern variations for this girl) and with your Hcg injections, I was able start on the suggested dosage and your team helped me adjust to a lower dose when I was experiencing hunger. After this, it was smooth sailing! I have since had a baby and gained 20 very stubborn pounds. I tried exercise and weight watchers, but those didn't work. I know your Hcg words from experience, so I'm happy to be ordering from you again! – Kathleen
With your help and support during my first round with NuImage hcg injections, I was able to lose 41.6 lbs!!! Even with a schedule that included kids and heavy traveling, I was able to follow the protocol. I have 2 rounds to go, and I'm torn if I should do another 40 day round, or short/normal round, but the losses from this have encouraged me to move forward and reach my goal (high school weight!) I will always recommend NuImage Medical and cannot express the amount of gratitude I feel for your excellent support and products.
Have questions? Visit Jen's Guide to purchasing authentic Hcg kits from USA.